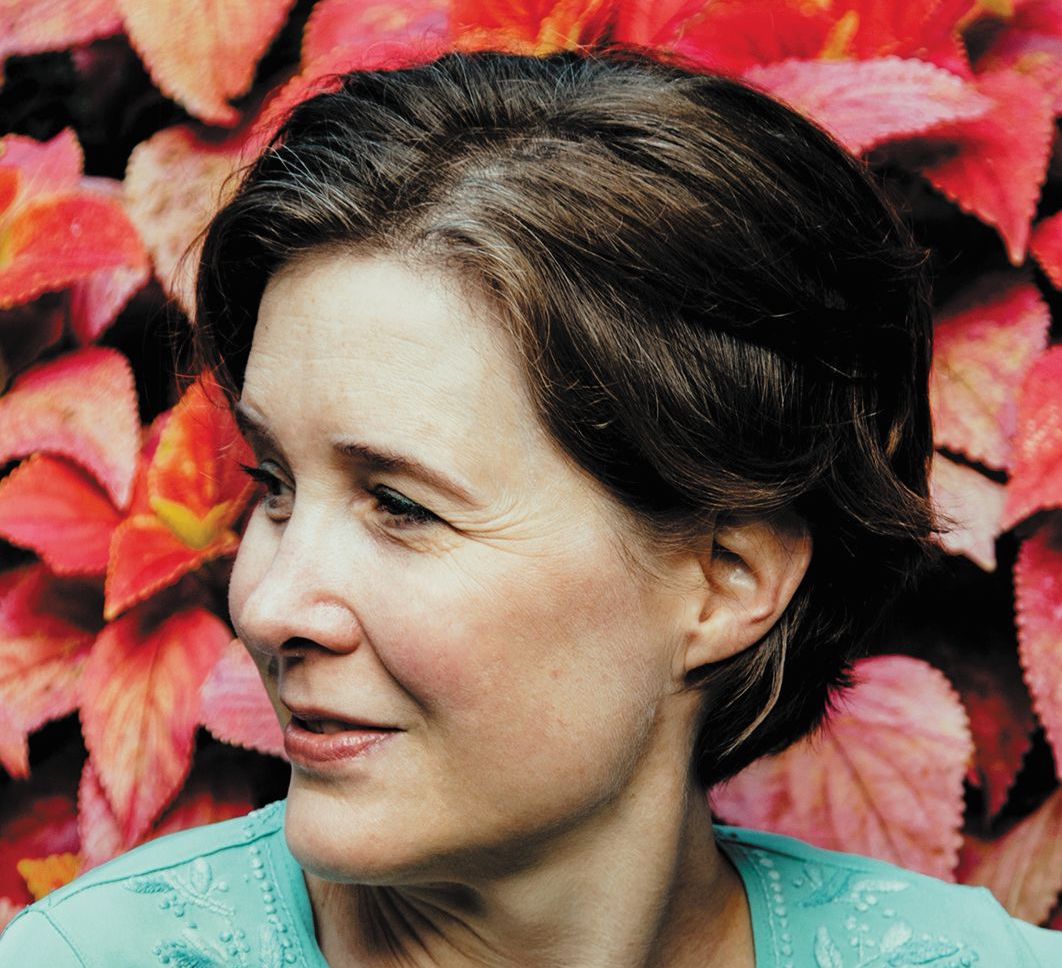 The 2021 Eudora Welty Lecture featuring celebrated author Ann Patchett will be offered as a special video presentation produced by the Eudora Welty Foundation and developed in partnership with the Folger Shakespeare Library in Washington, D. C. Tickets are $15.00 and are available now through the Folger box office at Bit.ly/FSLWeltyTickets. The initial screening was October 14, 2021, and the program will be available on-demand through June 30, 2022. Your $15.00 ticket may be used throughout the posting period.
With an in-person 2021 program prevented by Covid 19 concerns, Patchett traveled to the Welty House in Jackson from her home in Nashville in June to deliver the 2021 Eudora Welty Lecture. Introduced by Holmes Adams, chairman of the Board of Directors of the Eudora Welty Foundation, the program also features a brief tour of the Welty House by Patchett, narrated by Mary Alice Welty White Eudora's niece and secretary of the Welty Foundation Board of Directors.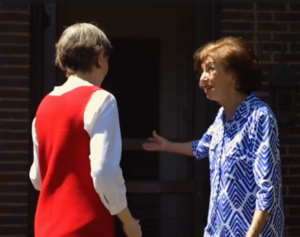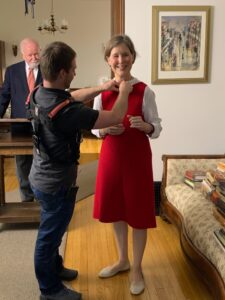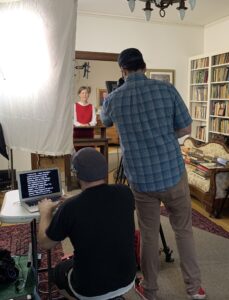 Mary Alice Welty White welcomes Ann Patchett to the Welty House. Corey Easley mikes Ann as Holmes Adams prepares to introduce her.  Teleprompter operator/second cameraman Lake Lehew and videographer/editor Philip Scarborough record the lecture. Scarborough Films recorded and edited the videos.
Ann Patchett is the author of eight novels and three books of nonfiction. She is the recipient of the PEN/Faulkner Award, England's Orange Prize, the Booksense Book of the Year, and has been a finalist for the National Book Critics Circle Award and the Pulitzer Prize. Her work has been translated into more than 30 languages. She was named one of the 100 Most Influential People in the World by Time magazine. In 2011, she opened Parnassus Books in Nashville. Her collection of essays, These Precious Days, will be published by Harper Collins in November 2021. The book includes her Welty lecture, "The Nightstand." She is a former member of the Eudora Welty Foundation National Advisory Board.
The Welty Lecture celebrates Eudora Welty's creative origins as expressed in One Writer's Beginnings and is made possible by gifts to the Foundation  and the generous endowed support of Martha Dowd Dalrymple in memory of her mother and grandmother and the family of Eudora Welty in her memory.
Previous Welty Lectures were delivered by Salman Rushdie in 2016, Chimamanda Ngozi Adichie in 2017, Richard Ford in 2018, and Jesmyn Ward in 2019. The 2020 lecture was cancelled due to the Coronavirus.
This post is from the
archive.