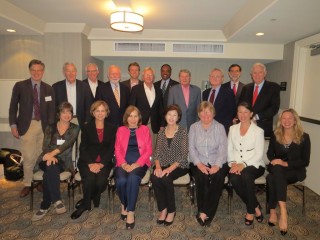 The Eudora Welty Foundation, Inc., Board of Directors and the Foundation's National Advisory Board held its annual joint meeting in Washington, D. C., October 4 and 5 to discuss the strategic plan being developed to guide the Foundation's work in the next several years.
Also in attendance were Welty House staff and consultants and special guest Robert Pearigen, president of Millsaps College. The Foundation and the College have a partnership in support of the Welty Scholar-in-Residence.
Those in attendance, pictured here, included, top row, Rob McQuilkin, Roger Mudd, Paul Breazeale, Holmes Adams, John Hooks, Bill Dunlap, Clifton Taulbert, Jim Lehrer, Michael Jefcoat, Rob Pearigen, and Dan Jordan; bottom row, Bridget Edwards, Jean Medley, Mary Lynn Kotz, Mary alice White, Suzanne Marrs, Susan Haltom, and Margaret McMullan. Also in attendance, not pictured, were Tim Seldes, Susan Richards Shreve, and Jeanne Luckett.
This post is from the
archive.