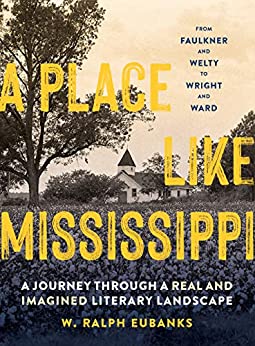 Author W. Ralph Eubanks will be featured in several virtual events in the coming days discussing his new book, A Place Like Mississippi: A Journey Through a Real and Imagined Landscapes.
The book is a tour of real and imagined places that have inspired Mississippi's authors.
On Monday, March 22, from 7-8 p.m. CDT, he will be in conversation with Beth Ann Fennelly, Mississippi's Poet Laureate and a professor in the MFA program at the University of Mississippi, on line from East City Bookshop in Washington, D.C. The event is free, but you can reserve tickets and order a signed copy of the book here.
On Tuesday, March 23, from 6:30-7:30 p.m. EDT, Eubanks and noted Mississippi author Michael Farris Smith will be in a virtual discussion through FoxTale Book Shoppe in Woodstock, Georgia. Tickets are free at this address, and book sales are appreciated.
History is Lunch, hosted by the Mississippi Department of Archives and History (MDAH), will feature Eubanks on Wednesday, March 24, from 12-1 p.m. CDT. The program will stream live on the MDAH Facebook page and be available afterwards there, on the MDAH YouTube Channel, and on the History Is Lunch page.
You may listen to Eubanks' March 16 interview with Mary Louise Kelly on National Public Radio here.
Eubanks is Visiting Professor of Southern Studies at the University of Mississippi and a member of the Welty Foundation National Advisory Board. He is the author of Ever Is a Long Time and The House at the End of the Road. He has also contributed articles and reviews to the Chicago Tribune, Preservation, The Hedgehog Review, The American Scholar, Time, The Wall Street Journal, WIRED, The New Yorker, and National Public Radio.
This post is from the
archive.