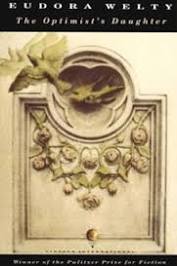 The 2023 Welty-at-Home Virtual Book Club will feature Eudora Welty's novel The Optimist's Daughter, beginning January 23 and extending for eight weeks. Held on Zoom at 12 noon CST, the one hour-long discussions will be led by Suzanne Marrs, Welty scholar and biographer. To sign up, visit this link.
This year is the 50th anniversary of The Optimist's Daughter's receipt of the Pulitzer Prize for Fiction. It originally appeared as a short story in The New Yorker in 1969. She revised it and published it as a book in 1972.
The schedule is listed below. The page numbers reference the Library of America's Eudora Welty: Complete Novels, which contains The Optimist's Daughter, but you may use any text.
Week 1 – January 23: Background + Part One (883-910)
Week 2 – January 30: Part Two (911-945)
Week 3 – February 6: Part Three (946-978)
Week 4 – February 13: Part Four (978-992)
Week 5 – *OFF Monday, February 20*
Week 6 – February 27: Discussion of the novel as a whole
Week 7 – March 6: The New Yorker version, Sections One & Two
Week 8 – March 13: The New Yorker version, Sections Three & Four
This website features a Reader's Guide and synopsis of the book under Reading Aids. The Welty House & Garden will highlight artifacts and plants from Welty's life relating to the story on Facebook and Instagram.
This post is from the
archive.