The second annual Eudora Welty Lecture with internationally award-winning Chimamanda Ngozi Adichie will be aired on C-SPAN2 on Saturday, November 25 at 7:45 p.m. CT and again on Sunday, November 26 at 12 noon CT. For more information on C-SPAN's programming schedule go to www.c-span.org.
Sponsored  by the Welty Foundation in partnership with the PEN/Faulkner Foundation, the lecture was held November 8 at the Lincoln Theatre in Washington, D. C. The Welty Lecture is made possible by the generous contributions of Martha Dowd Dalrymple in memory of her mother, Adine Wallace Dalrymple, and her grandmother, Adine Lampton Wallace, and also by the family of Eudora Welty in her memory.
Welty received magnificent promotion at the event as Welty Foundation Board Chairman Holmes Adams's welcomed the full house of 1,250 guests. Welty Foundation National Advisory Board member W. Ralph Eubanks delivered a moving introduction of Ms. Adichie.
Visiting backstage with Ms. Adichie before the program are, from left, Ralph Eubanks, his daughter Delaney Eubanks, and Holmes and Gayle Adams.
Ms. Adichie, who grew up  in Nigeria, shared stories of her creative origins as a writer,  following in the tradition of Welty's bestselling published lectures at Harvard University, One Writer's Beginnings. She is the acclaimed author of the novels Purple Hibiscus, Half of a Yellow Sun, and Americanah and the short story collection The Thing Around Your Neck.
Her TED Talks "The Danger of a Single Story" and "We Should All Be Feminists," later published as a book, have been viewed millions of times. Her latest book is Dear Ijeawele, or A Feminist Manifesto in Fifteen Suggestions. 
Among the many recognitions her writing has received are the Commonwealth Writers' Prize, the Hurston/Wright Legacy award, the Orange Prize, the National Book Critics Circle Award for Fiction, the Chicago Tribune Heartland Prize, and the New York Times Ten Best Books of the Year. Ms. Adichie has also received a MacArthur Foundation Fellowship.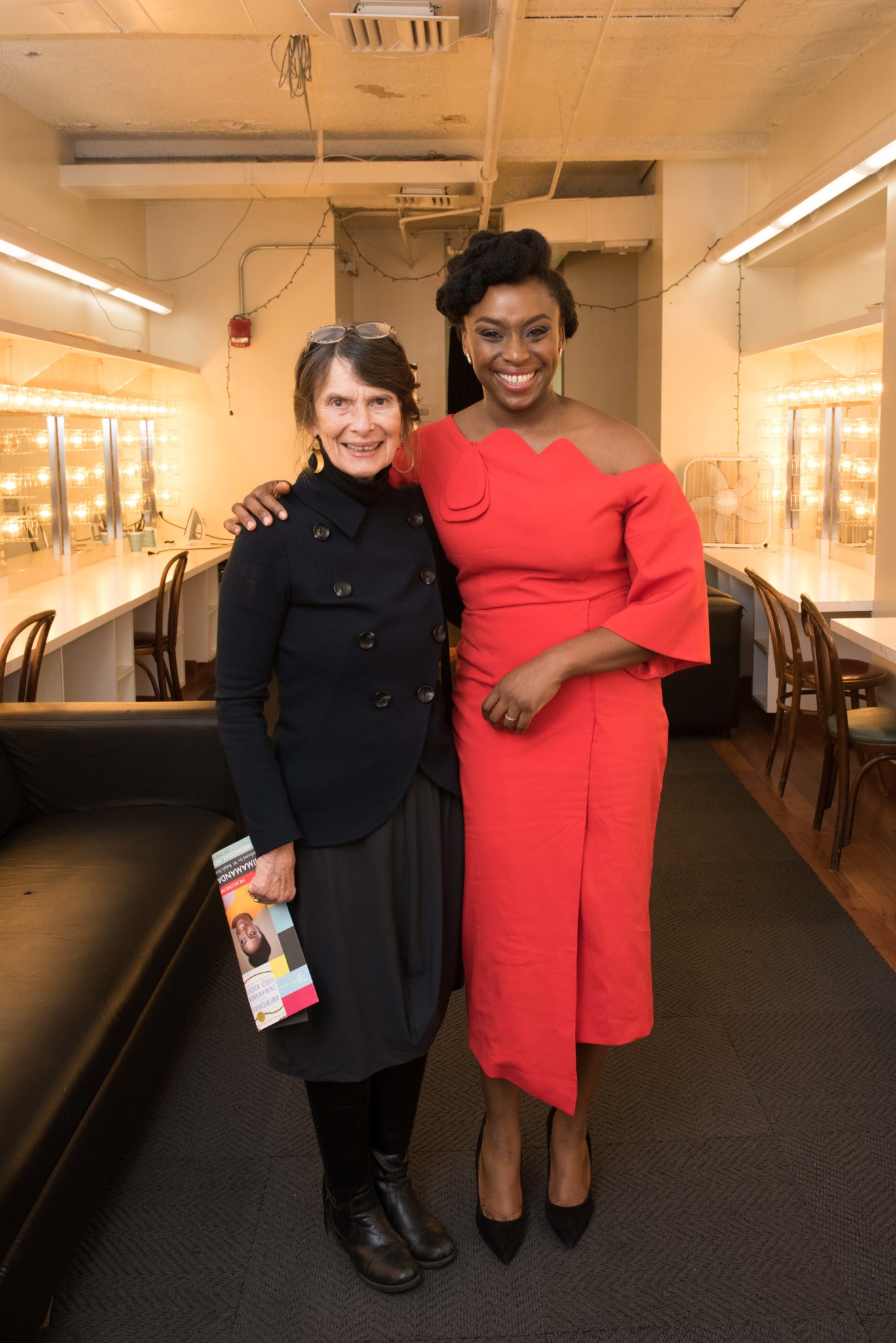 Welty Foundation National Advisory Board member Susan Richards Shreve, pictured with Ms. Adichie in the green room, is also president of the PEN/Faulkner Foundation.
Photographs © Kea Taylor/Imagine Photography.
This post is from the
archive.