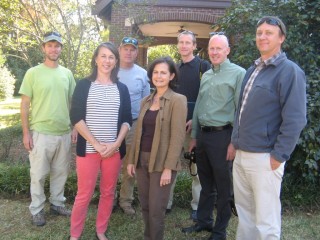 Mississippi State University's Department of Landscape Architecture has added its considerable talent and expertise to the Welty Garden team, providing assistance with the development of a long-term landscape management plan. A group from MSU recently visited the Welty House for a two-day charette, coordinated by Welty Garden restoration consultant Susan Haltom. Details and photographs of their visit may be viewed here.
The group met with Welty House staff, Welty Foundation board members, garden volunteers, and landscape contractors, as well as others with a special interest in the Welty House and Garden.  Shown here preparing to tour the garden are Andrew Bell of Sustainable Solutions; Susan Haltom; Eric Hays of Eric Hays Landscaping; Lee Threadgill, Cererus Weeder volunteer; Michael Seymour, Associate Professor, Graduate Program Coordinator, MSU; Brian Templeton, landscape architect and Extension Associate, MSU; and Timothy J. Schauwecker, Program Coordinator, Landscape Contracting and Management, MSU.
This post is from the
archive.