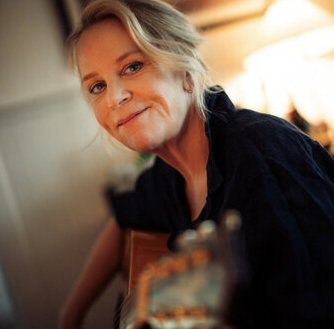 Acclaimed singer/songwriter Mary Chapin Carpenter, a member of the Welty Foundation National Advisory Board, sent a thoughtful letter of introduction about her friend author/chef Brian Noyes to the October 19 reading from his latest book, Red Truck Bakery Farmhouse Cookbook held in the Welty Garden. Carpenter's photo by Aaron Farrington is from her website.
Welty House & Garden decent Beverly Fatheree introduced Noyes to the audience, pictured below. Guests were also invited to sample goodies from the bakery and purchase cookbooks offered by Lemuria Books.
In her introduction Carpenter reflects on her meeting with Eudora in Jackson while in town for a concert. She wrote a song called "Halley Came To Jackson" about baby Eudora's and Halley's Comet who both arrived in 1910. Carpenter has generously shared her talents at Welty Foundation events in Mississippi, including the Centennial celebration of Eudora's birth and the launch of the Welty photo portfolio launched in Natchez in 2017. Sales of the 18-print portfolio benefit the Welty Foundation.
Here is the text of Carpenter's message
"I've been lucky to be friends with Brian Noyes for quite a few years now and the perks this friendship brings me are immense AND delicious. When I bump into him at his bakery, he won't let me out the door without loading me up with assorted Red Truck Bakery cakes, pies, breads, sandwiches and cookies. It may not be great for the waistline, but it's heaven for the spirit.
"I wish I could be with you all today in Eudora Welty's home to introduce Brian to you. I had the extraordinary good fortune to be invited to tea there many years ago by Miss Eudora herself when we were in Jackson to play a concert. I will never forget the pleasure of being in her company that afternoon in the house that she grew up in: the rooms and hallways echo with the power of memory, the importance of place, and the magic of stories about family, about writing, about Halley's Comet—she told about it in One Writer's Beginnings. In my mind, I always see Jill Krementz's tender photograph of her at her typewriter, in her bedroom, that adorned the cover of Krementz's book Parting the Curtains.
"You are gathered today to welcome the publication of another wonderful book, The Red Truck Bakery Farmhouse Cookbook, which lives up to its title in every way. It is filled with delicious recipes that will more than reward the cook and the baker in your house. As I wrote about it inside the cover, "There are few things more beautiful and nurturing than the sight and aroma of delicious food—from our own kitchens—filling our tables, whose most important ingredients come from love, memory, friendship and family."
"I'm sending all my best to Brian and everyone at Miss Eudora's home today, and with the assist of this lovely book, may your tables be heavy with good food, good folks and good times to come."
—Mary Chapin Carpenter
Member of the Eudora Welty Foundation National Advisory Board
This post is from the
archive.