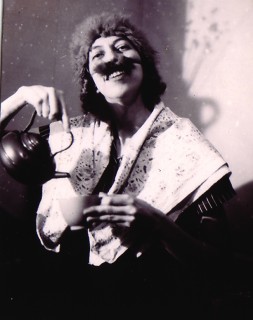 Some 200 guests relived the good times when Eudora Welty entertained friends in the garden and on the side porch of the Welty home at June Recital Remix, a dance party in the Eudora Welty Garden on June 4 from 6 – 8:30 p.m.
Guests listened and danced to the sounds of "The Sessions," a six-piece subgroup of Bob Davidson's Capital City Stage Band. They played swing and jazz numbers from the thirties through the fifties, including some of Eudora's favorites. Millsaps music professor Cheryl Coker joined the band for a special vocal performance.
Welty scholar Suzanne Marrs related stories about the music Welty loved (she was a fan of Fats Waller!). Anecdotes throughout the evening included references to music in such Welty stories as  "Powerhouse," "June Recital," and "No Place for You, My Love."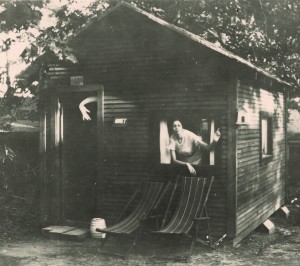 The featured photograph of Eudora in costume illustrates the skits that she and her friends enjoyed. The recreated clubhouse in the Woodland Garden, which Eudora called "The Penthouse," or "The House of Passions Pent," was open for visitors to see. It was the site of many happy gatherings of Eudora and friends. The photograph here shows Eudora in the window of the original clubhouse. Historic photos are used through the courtesy of Eudora Welty LLC.

The Clubhouse was outfitted with set and props for special "selfie" photo opportunities based on some of Welty's imaginative photographs.
The party was held under a large tent, complete with dance floor, and light refreshments and libations were served.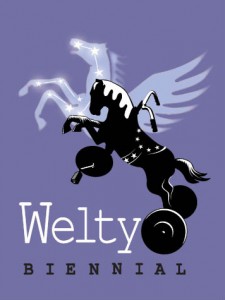 This festive event, sponsored by the Eudora Welty Foundation together with the Eudora Welty House and Garden, was part of the Welty Biennial, a 12-week series of cultural activities, performances, and exhibits in Jackson. All events of the Biennial are free and open to the public.
Curated by David Kaplan, the Biennial will run through July 3. Features include exhibits on a classical theme at the Mississippi Museum of Art and three replicas of the columns of Windsor ruins, a favorite site of Eudora's, displayed on North West Street outside Thalia Mara Hall.
This post is from the
archive.