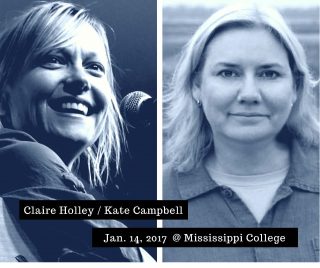 A symposium and concert entitled "Inspirations by Welty" held at Mississippi College in Clinton on January 14 celebrated the artistic glory of Eudora Welty and featured well-known singer/songwriters Claire Holley and Kate Campbell and Welty scholars Dr. Peggy Whitman Prenshaw and Dr. Elizabeth Crews. Ricky Nations, president, and other leaders of the Arts Council of Clinton sponsored the program.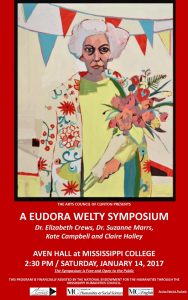 The symposium at Aven Hall on the MC campus included panelists Prenshaw, retired Humanities Scholar-in-Residence at Millsaps College and former editor of the Southern Quarterly and Fred C. Frey Professor Emerita at Louisiana State University, and Crews, associate professor of English at Blue Mountain College and assistant editor of the Eudora Welty Review. Singer/songwriters Holley and Campbell, both of whom have written songs inspired by Welty's short stories, also participated in the symposium. MC Dean of Humanities and Social Sciences, Dr. Jonathan Randle, moderated the event.
The symposium was financially supported by the National Endowment for the Humanities through the Mississippi Humanities Council.
Featuring Holley and Campbell, both of whom have Mississippi roots, an evening concert was held in Swor Auditorium of Nelson Hall. They performed several of their original songs as well as other personal favorites, all appreciated by the audience. Visit claireholley.com and katecampbell.com to see where these talented artists are appearing and how to access their recordings. Holley is now living in Los Angeles, and Campbell, in Nashville.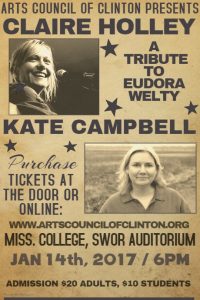 An added feature related to the symposium and concert was an exhibit of 14 of Welty's Depression-era photographs displayed at the Common Room Gallery of Acorn Studio through January 31.
Welty's literature touched many readers, MC English professor and Writing Center director Steve Price said. He first admired her works as an undergraduate in Wisconsin. "I came to learn that she was a person with grit, someone who knew the racial and class problems that existed in Jackson and in Mississippi,'' Price noted. "She had an amazingly empathetic eye, as seen in her photographs. And she was willing to grapple with the social issues that surrounded her.''
MC English professor Susan Lassiter admires this "world renowned literary figure, who was foremost a Southern lady.'' One of Lassiter's professors, Betty Furstenberger of Hinds Community College, told the class of the time she and a friend camped out near Welty's home in Jackson's Belhaven neighborhood. The college girls hoped to meet the literary giant. WhenEudora discovered the girls outside her home, she immediately invited them in for iced tea and cookies on a sweltering summer day. "Best of all, it was an afternoon of Welty's observations and stories,'' Furstenberger added.
This post is from the
archive.