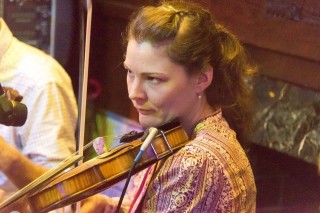 The holiday season was displayed with a British Isles—especially Ireland—theme at the Eudora Welty House this year. Visitors had a special treat on Friday, December 5  as the first floor of the historic Welty House was open for the Old Jackson Christmas by Candlelight Tour.
Among the festive decorations was a display of Christmas cards from her friends in Ireland and England, including Irish writer Elizabeth Bowen; British writers E. M. Forster and Sir V. S. Pritchett; and the Australain-British creator of Mary Poppins, P. L Travers. A noted feature was a display of three crayon drawings by George William Russell, known as A. E., a member of the Irish Literary Renaissance. The drawings were given to Welty as a Christmas gift by A. E.'s  son, Diarmuid Russell, who was Welty's literary agent and long-time friend.
Nex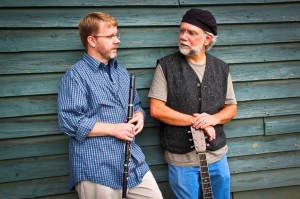 t door to the Welty House, visitors  joined the fun at the Welty Education and Visitors Center for entertainment by the popular Celtic music trio Spirits of the House, featuring Valerie Plested on fiddle, Chuck Bishop on flute, and Steve Whitlow on guitar.
Delicious pumpkin bread, petite petticoat sugar cookies, hot tea, and cider was served.
This post is from the
archive.