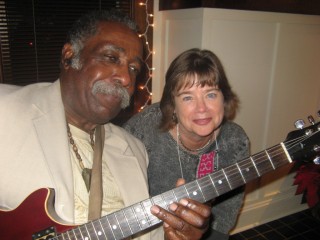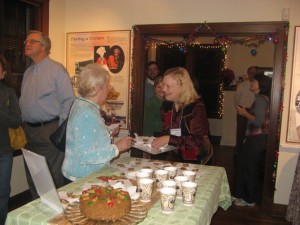 Nearly 700 enthusiastic visitors enjoyed holiday treats at the Welty House and Education and Visitors Center recently as part of the Old Jackson Christmas by Candlelight Tour.
The "Powderhouse" party featured blues great Jesse Robinson, fruitcake from the Welty family recipe, hot cider, and an open house with vintage decorations, photos, and good company.
Many volunteers made this party possible — from making the fruitcakes to providing kitchen duty to greeting guests.
An added attraction were facsimile greeting cards sent to Eudora displayed and interpreted by
Betty Uzman, Mississippi Department of Archives and History manuscript curator of the Welty Collection, and the traditional Welty family Christmas decorations throughout.
Buses delivered waves of guests every hour, many of whom were making their first visit to the Welty House, dropping them off for a tour of the House and entertainment and refreshments next door  before carrying them to other historic Mississippi Department of Archives and History sites.
This post is from the
archive.