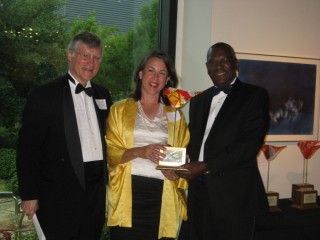 Susan Haltom and Jane Roy Brown, co-authors of One Writers' Garden: Eudora Welty's Home Place, received the Welty Prize at the Welty Symposium at Mississippi University for Women October 18. The book explores Welty's and her mother's shared love of gardening and the way their garden reflected the trends and issues of their day.
PHOTO: Haltom is shown receiving the award from master of ceremonies Dr. William Ferris, left, Joel Willliamson Eminent Professor of History at the University of North Carolina at Chapel Hill and former chairman, National Endowment for the Humanities, and Dr. David Beckley, President, MIAL Board of Director and President of Rust College.
Haltom is a Jackson-area garden designer, who led efforts to restore the garden at the Eudora Welty House, and Brown is a landscape historian and award-winning travel and garden writer. Together they have crafted a book that American Gardener calls ". . . a sparkling, multifaceted work rich in regional personalities, plants, and events that gardeners, with or without a telltale drawl, will relish." Haltom also received the award for best non-fiction book of 2011 from the Mississippi Institute of Arts and Letters (MIAL).
This exquisite book, now in its second printing by University Press of Mississippi, continues to be widely celebrated. It has made the list of favorites in several publications — from the Dallas Morning News to the New York Journal of Books and from The American Gardener to Horticulture magazine. It was listed as one of the year's notable books by the Southern Garden History Society and selected for inclusion in "25 Years of Great Gardening Books" for the 100th issue of the British garden journal Hortus. For excerpts from the reviews, click here.
Authors Haltom and Brown and photographer Langdon Clay have made appearances at book fairs, garden clubs, bookstores, and community groups around the country, and interest in the book has been brisk. To contact the authors for appearances, email: susanhaltom@gmail.com or brownjaneroy@gmail.com.
This post is from the
archive.