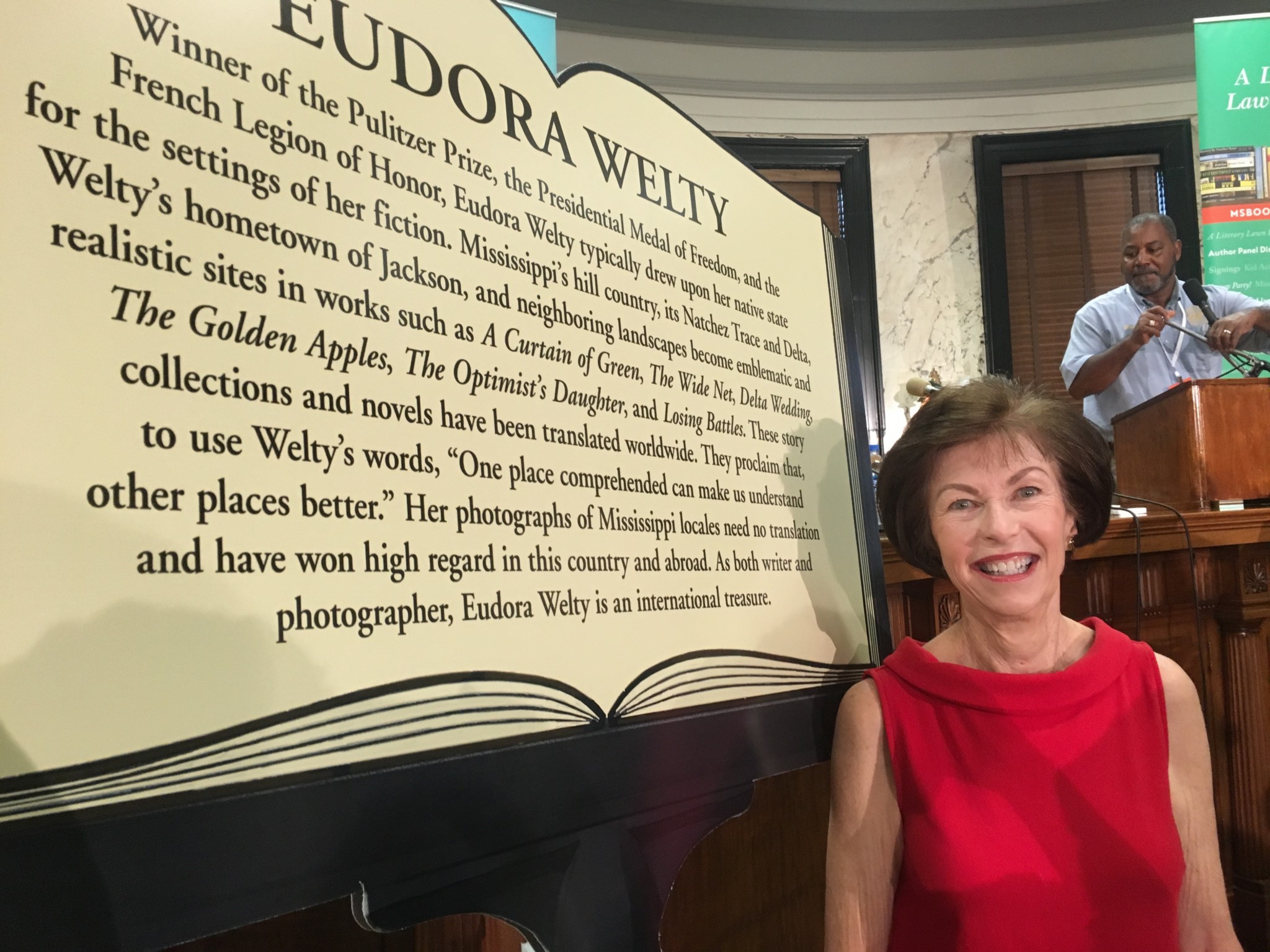 The first marker on the new Mississippi Writers Trail will honor Eudora Welty and will be installed on Monday, September 10, at 4 p.m. on the front lawn of the Welty House. The public is invited to attend this historic event. Mary Alice Welty White unveiled the prototype of the marker at the opening ceremony of the Mississippi Book Festival on August 18 at the Mississippi State Capitol.
Special guest speaker at the ceremony will be Jon Peede, chairman of the National Endowment for the Humanities. A native of Brandon, Mississippi, Peede has been publisher of the Virginia Quarterly Review at the University of Virginia, literature grants director at the National Endowment for the Arts, director of communications at Millsaps College and founding editor of Millsaps Magazine. An author himself, Peede wrote a guest editorial in the Jackson Clarion Ledger about Welty and the marker which may be viewed here.
The marker for two-time National Book Award-winning author Jesmyn Ward was also unveiled at the ceremony at which Ward delivered moving remarks. She is pictured here with Senator Roger Wicker after the reveal of her marker.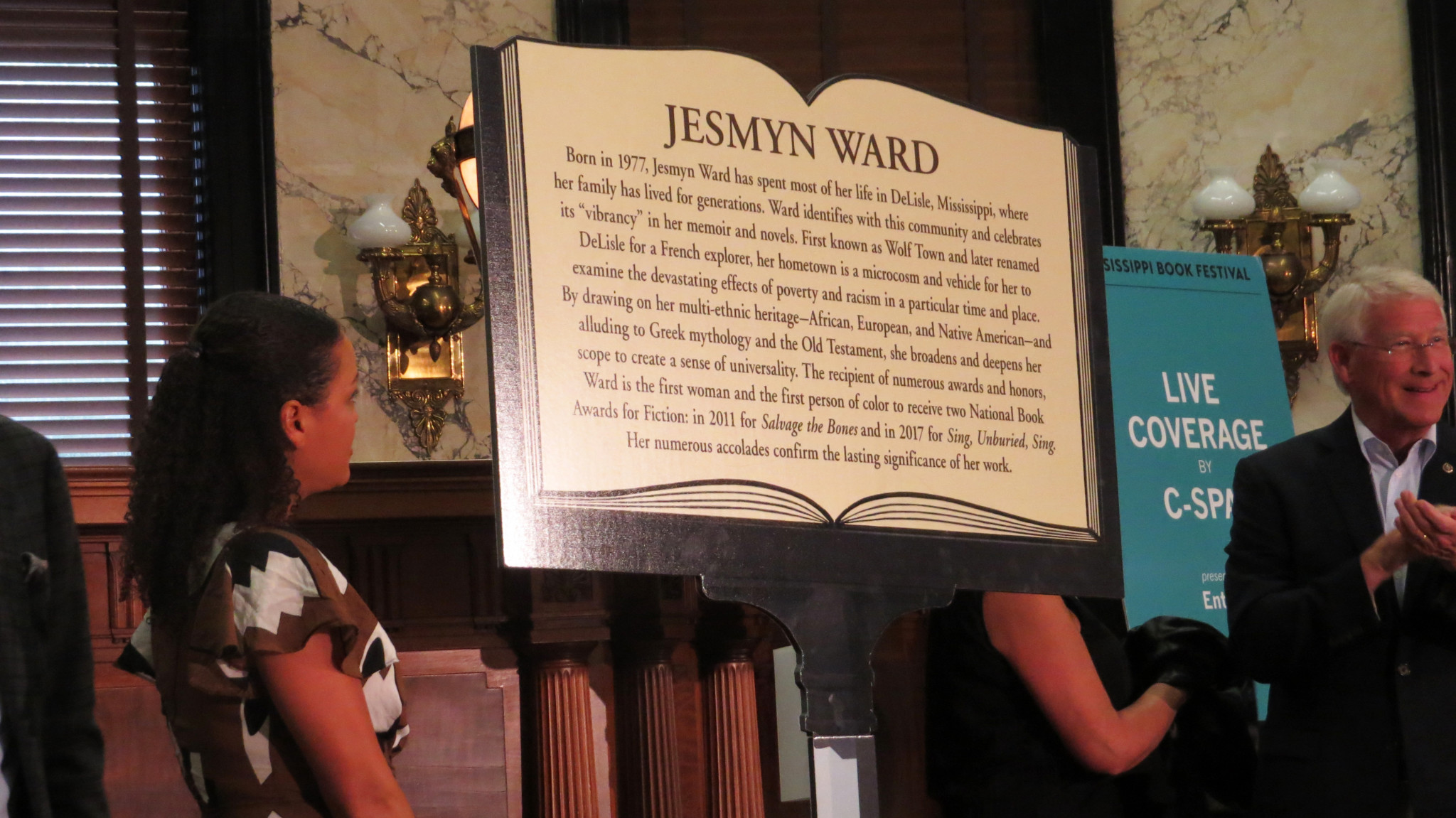 The text for Welty's marker was written by  Suzanne Marrs, Professor Emerita of English at Millsaps College, where she was also Welty Foundation Scholar-in-Residence. Marrs wrote the definitive biography of Welty.
The installation ceremony is being coordinated by Visit Mississippi, a division of the Mississippi Development Authority (MDA). Visit Mississippi also coordinates and promotes other cultural heritage trails in the state highlighting blues and country music, culinary sites, and civil rights heroes, events, and places of significance.
The creation of the Mississippi Writers Trail has been in the making for the past five years, according to  Malcolm White, director of the Mississippi Arts Commission (MAC). Led by the efforts of MAC, MDA, and the Missisippi Humanities Council, the Mississippi Writers Trail advisory board was initially formed as a sub-committee of the Mississippi Book Festival board and currently includes representatives from the Mississippi Library Commission, the Mississippi Department of Archives and History, and literary leaders from around the state.  The advisory board has selected three literary scholars to assist in decision-making.
Phase One of the process will include obtaining honoree recommendations from the scholars and prioritizing phases in which to move forward.  The number of markers will depend on future funding. The production of initial markers has been made possible by a $30,000.00 Statehood Grant from the National Endowment for the Humanities (NEH) to the Mississippi Humanities Council. Mississippi received the first Statehood Grant given by the NEH. Funds for additional markers are anticipated from the Mississippi Delta Heritage Area and other sources.  All funds are being held by the Community Foundation for Mississippi.
This post is from the
archive.