Noted author Elizabeth Spencer, native of Carrollton, Mississippi, is on tour with her latest book of short fiction: Starting Over: Stories. She was in Mississippi for appearances in Oxford at Off Square Books, in Jackson at Lemuria, and in Greenwood at Turnrow Books in early February.
Spencer has received widespread acclaim for her work, including five O'Henry Awards and the PEN/Malamud Award for short fiction and the Lifetime Achievement Award from the Mississippi Institute of Arts and Letters. The author of nine novels, seven other collections of short stories, and a memoir, Landscapes of the Heart, Spencer is also the subject of a documentary film of the same title. Her novella The Light in the Piazza was adapted for movie and stage and enjoyed a significant Broadway run.
A close friend of Eudora Welty's for many years, Spencer serves on the Welty Foundation National Advisory Board. She lives in Chapel Hill, North Carolina. She is seen here with long-time friend Mary Alice Welty White, Eudora's niece and the founding director of the Eudora Welty House.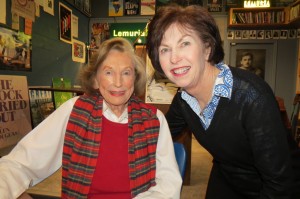 Spencer, age 92, describes Starting Over as stories about people who have reached a gap in their lives and are starting over. An interview in the Sunday, February 2, Clarion-Ledger may be read here: Clarion-Ledger. The Clarion-Ledger's book review may be read here.  See the The New York Times recent article about her new work.
This post is from the
archive.