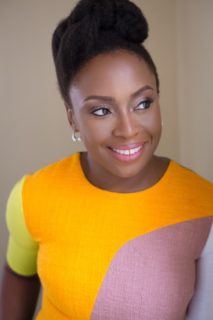 Tickets are now on sale through the Lincoln Theatre in Washington, D. C., for the second annual Eudora Welty Lecture with internationally acclaimed author Chimamanda Ngozi Adichie. Sponsored by the Eudora Welty Foundation and the PEN/Faulkner Foundation, the lecture will be held on Wednesday, November 8, 2017.  To order tickets ($20 each plus service and processing fees),  click here . Doors will open at 6 p.m., and the program will begin at 7 p.m.
Inspired by Eudora Welty's lectures at Harvard University on her own formation as a writer, later published as One Writer's Beginnings, the annual Eudora Welty Lecture is an original talk on the topic of a writer's own creative beginnings. Lecturers are chosen from the most prominent writers working in the English language today, and receive a $20,000 honorarium. Award-winning author Salman Rushdie delivered the inaugural lecture in 2016 at the Washington National Cathedral.
Adichie is one of the most celebrated African writers of her generation. She earned international attention for her first novel, Purple Hibiscus (2003), a Nigerian coming-of-age story about a teenage girl growing up in a privileged household in a nation plagued by poverty and political strife. A review in the Boston Globe noted that "Adichie's understanding of a young girl's heart is so acute that her story ultimately rises above its setting and makes her little part of Nigeria seem as close and vivid as Eudora Welty's Mississippi."
The Eudora Welty Lecture, an endowed lecture presented by the Eudora Welty Foundation and the PEN/Faulkner Foundation, is open to the public and represents a unique addition to the literary landscape of Washington, D.C. This year the lecture is being presented through a partnership with the D.C. Commission on the Arts and Humanities and the D.C. Office on Cable, Film, Television, and Entertainment.
Adichie's Purple Hibiscus won the Commonwealth Writers' Prize, and her second book, Half of a Yellow Sun (2006), won the Orange Prize (now the Bailey's Women's Prize), the world's top prize for female writers. Adichie received a US National Book Critics Circle Award for her bestselling2013 novel Americanah. Her work has been translated into over thirty languages and is read around the world.
The TED Talk Adichie delivered in 2009 on "The Danger of A Single Story" is one of the most-viewed TED Talks of all time; her 2012 TED Talk, "We Should All Be Feminists," has inspired conversations about feminism around the world, and was published as a book of the same name in 2014. Her most recent book, Dear Ijeawele, or A Feminist Manifesto in Fifteen Suggestions, was published in March 2017. She has previously received a Hodder fellowship from Princeton University, a fellowship from the Radcliffe Institute for Advanced Studies at Harvard University, and a "genius grant" from the John D. and Catherine T. MacArthur Foundation.
Photo of Ms. Adichie courtesy Wani Olatunde.
This post is from the
archive.