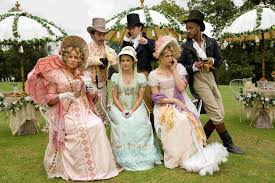 The popular Jane Austen Film Series at the Eudora Welty House and Garden will conclude its season on Friday evening, October 19. Free and open to the public, "Austenland" will feature "Janeites," devotees of Austen, and guests are invited to come in costume! USA Today offered this observation of the film: "This is a light parody of Austen's novels, and fans will enjoy the subtle allusions and knowing winks."
Sally Birdsall, Scholastic Writing Awards Program administrator, will lead a brief program at 6 p.m., with the film beginning at 6:30 p.m. Guests are invited to bring their own snacks and beverages, chairs or blankets for the outdoor screening on the front lawn. Free popcorn and lemonade will be offered. The Belhaven University Student Center Theater across the street will be the alternative site in the event of rain.
The series is sponsored by the Eudora Welty House and Garden, Crossroads Film Festival,  and the Mississippi Region of the Jane Austen Society of North America. The Mississippi Humanities Council provides grant support for the program.
Please download the "Austenland" flier here and share with friends. For more information, call 601-353-7762.
This post is from the
archive.