Welty Foundation Newsletter Golden Apples Now Online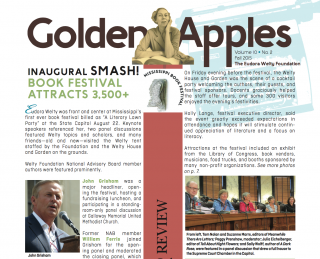 Beginning with the Fall 2015 issue of Golden Apples, the Welty Foundation newsletter may be accessed online. Click Fall 2015 Golden Apples to read about and see many photographs from the wonderfully successful first Mississippi Book Festival, exciting activities that took place at the House and Garden and were sponsored by the Foundation over the summer, and the new Welty House and Garden staff members.
If you wish to receive the newsletter in the mail, please email foundation@eudorawelty.org with your contact information or send your request to:
Eudora Welty Foundation, Inc.
P.O. Box 55685
Jackson, Mississippi 39296-5685
This post is from the
archive.
Welty images and manuscripts © Eudora Welty LLC; courtesy Welty Collection, Mississippi Department of Archives and History. All Rights Reserved. The Eudora Welty Foundation.
Site Design by Groovinby, Ltd.