Outdoor Live Jazz Night at Welty House Thursday, October 3, To Feature Music, Food, and Fun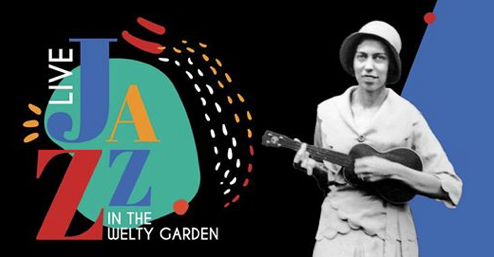 Join us for Live Jazz Night on Thursday, October 3, on the front lawn of the Eudora Welty House and Garden with music from the Mississippi College Jazz Band. Grounds open at 5 p.m. with music starting at 5:30, and the event is free and open to the public.
The band will feature songs from the Eudora Welty House and Garden's current exhibit, For the Record, and other jazz classics. Bring lawn chairs or blankets. Free lemonade and popcorn will be offered. Guests can buy food from P-Wee Franks and Deep South Pops, and a bar will be available. Lawn games and a children's station will also be provided.
This post is from the
archive.
Welty images and manuscripts © Eudora Welty LLC; courtesy Welty Collection, Mississippi Department of Archives and History. All Rights Reserved. The Eudora Welty Foundation.
Site Design by Groovinby, Ltd.