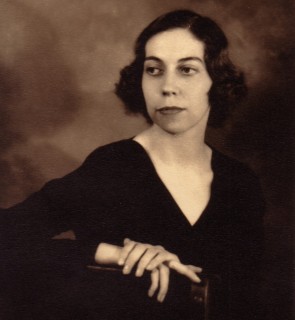 "Moments of Learning in the Life of a Writer," an exhibit exploring the connection between Eudora Welty's formal education experiences and their influence on her writing, opened Tuesday, September 9, at the Eudora Welty Education and Visitors Center.
Taking its inspiration from Welty's comment in her memoir, One Writer's Beginnings, that "learning stamps you with its moments," the exhibit covers the time she spent at Davis Grammar School and Jackson High School in Jackson, Mississippi, as well as her college years at Mississippi State College for Women in Columbus, the University of Wisconsin in Madison (featured photo is from her Wisconsin days), and Columbia School of Business in New York City.
With images, correspondence, drawings, poetry, memorabilia, and artifacts from the Eudora Welty Collection at the Mississippi Department of Archives and History as well as the Welty family, the exhibit illustrates Welty's observations of human nature, her love of language, her sense of humor, and her creative spirit.
The exhibit is open Monday through Friday from 8 a.m. to 5 p.m. and will be displayed through September 4, 2015. Call (601)353-7762 to schedule a visit for groups or for more information.
This post is from the
archive.