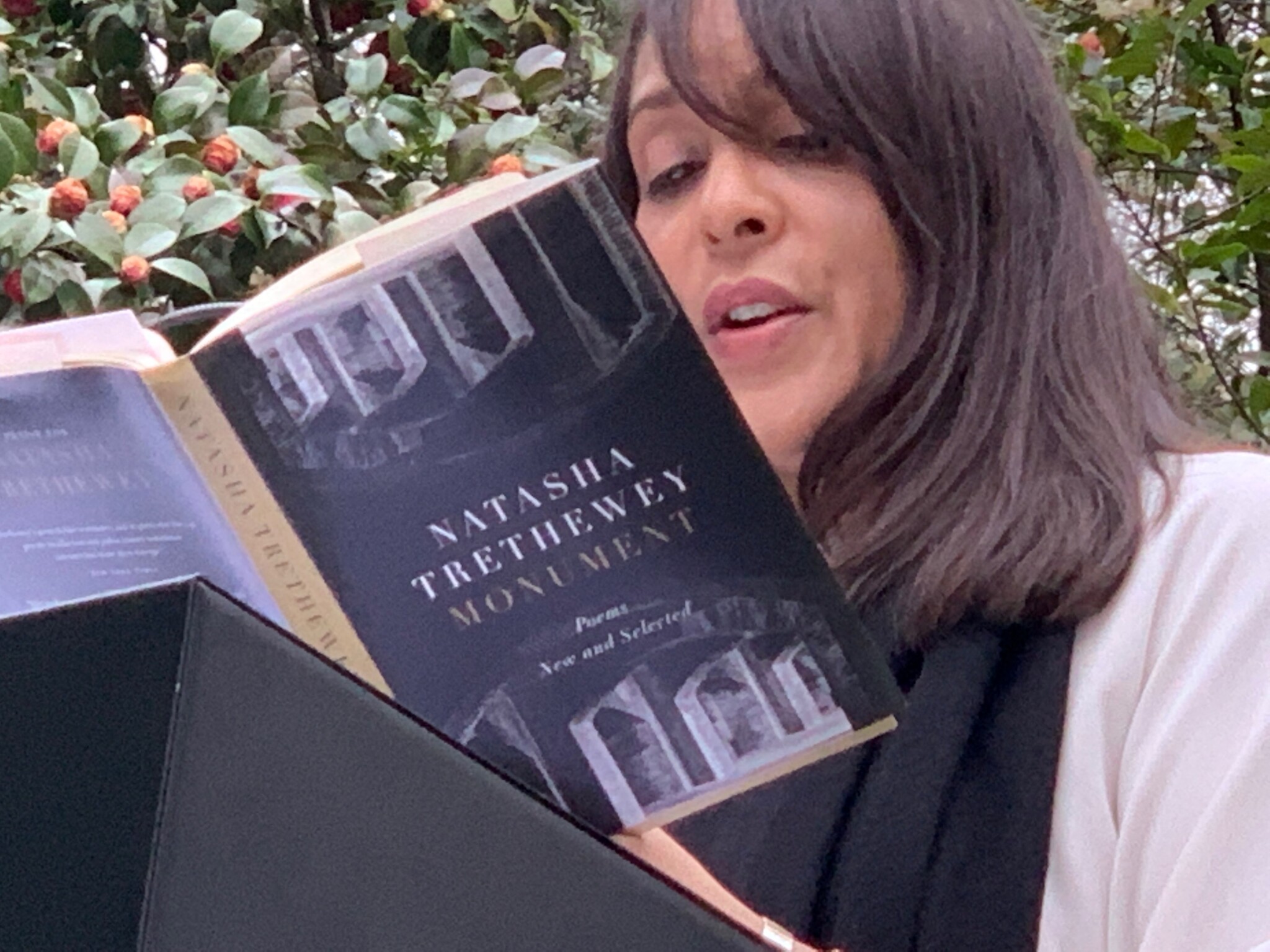 Works of Natasha Trethewey—former Mississippi and US Poet Laureate and memoirist—will be the subject of the next chapter of the Welty at Home book club offered through the Eudora Welty House and Garden on Zoom. Trethewey's poetry collection Monument and Memorial Drive: A Daughter's Memoir will be the subject of noon discussions on Mondays from July 26-August 30.
Michael Pickard, assistant professor of English and Creative Writing at Millsaps College, will be leading discussions on  Monument.  Suzanne Marrs, Millsaps Professor Emerita and Welty's friend and biographer, will lead the discussions on Memorial Drive. There is a possibility that Natasha Trethewey herself will be joining us for a final book club meeting.
Trethewey has been a loyal Welty Foundation supporter. She introduced Salman Rushdie at the first Eudora Welty Lecture in 2016 and presented the Bettye Jolly Lecture in 2019, shown in the photo above. She also wrote the forewords to the most recent editions of Eudora Welty Photographs and One Writer's Beginnings.
If you have already participated in the book club,  you will automatically receive the Zoom link. If you are joining for the first time, please email
info@eudoraweltyhouse.com
.
Zoom meetings will take place on Mondays at noon CDT. Here is the schedule:
Week 1 – July 26 – Monument, "Imperatives for Carrying on in the Aftermath" and Section I, pp 1-30. Early Trethewey plus a brief primer on reading poetry
Week 2 – August 2 – Monument, Section III, pp 55-103. The Poet Ascendant
Week 3 – August 9 – Monument, Sections V and VI, pp 125-183. Trethewey Now
Week 4 – August 16 – Memorial Drive, Section I, beginning-115
Week 5 – August 23 – Memorial Drive, Section II, pp 119-end
Week 6 – August 30 – Memorial Drive, Discussion of memoir as a whole
The Zoom discussion with W. Ralph Eubanks on his book
A Place Like Mississippi
may be seen on the
MDAH YouTube page
.
This post is from the
archive.