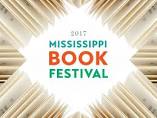 The 2017 Mississippi Book Festival will host an array of literary talent on Saturday, August 19, from 9 a.m.-5 p.m. at the New Capitol and Galloway Memorial United Methodist Church in Jackson.
As authors, readers, publishers, and book sellers converge, Welty scholars and friends will play prominent roles. A panel discussion on Eudora Welty's Legacy will be at 9:30 in the Galloway Foundery. Moderated by Suzanne Marrs and featuring W. Ralph Eubanks, Harriet Pollack, Ebony Lumumba, and Michael Pickard, professors of English and Welty scholars all, the panel is sponsored by the Welty Foundation and the Mississippi Arts Commission. Marrs will also participate with other women writers on the Her Story panel at 12 p.m. in State Capitol Room 201A.
A Conversation with Richard Ford will take place at 10:45 in State Capitol Room 115. A former member of the Welty Foundation National Advisory Board (NAB), Pulitzer Prize-winner Ford had a close association with Welty. Artist and author Bill Dunlap, a current NAB member, will join the Art in Mississippi panel at 9:30 in the Galloway Fellowship Center along with Carolyn Brown, biographer of Welty, Margaret Walker, and Kate Freeman Clarke. William Ferris, also a former Welty Foundation NAB member, will sign his new book, The South in Color, at 11 and discuss it at 12 p.m. in the Galloway Fellowship Center.
Other festival presenters who have been faithful Welty program participants include Katy Simpson Smith, Taylor Kitchings, Shalanda Stanley, Mary Miller, and Langdon Clay.
The Welty Foundation and Eudora Welty House and Garden invite everyone to stop by their tent on the capitol grounds for Welty memorabilia, fellowship, and news. Check out the full festival schedule and many related events at msbookfestival.com.
This post is from the
archive.