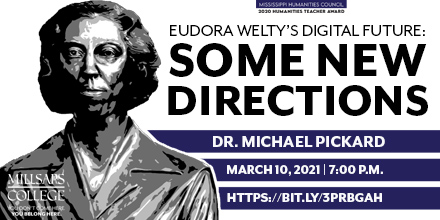 Dr. Michael Pickard, English professor at Millsaps College, will discuss "Eudora Welty's Digital Future: Some New Directions" Wednesday March 10 at 7 p.m. in a virtual lecture. To view, copy and paste this into your browser: https://bit.ly/3prbgah
Pickard, Millsaps College class of 2004, is an assistant professor of English and Creative Writing at Millsaps College. He holds a Ph.D. in English from the University of Virginia and an M.A. in Creative Writing from Boston University. Named Humanities Teacher of the Year at Millsaps by the Mississippi Humanities Council, Pickard is also a published poet.
To learn more about the Digital Welty Lab at Millsaps visit https://ewelty.org.
.
This post is from the
archive.