Suzanne Marrs—Welty's biographer and friend and a Welty scholar of note— will receive the Richard Wright Literary Excellence Award, along with journalist Jerry Mitchell, from the Natchez Literary and Cinema Celebration on February 27 in Natchez, Mississippi. Eudora Welty received the first Richard Wright Award in 1994. The awards program is at 10:30 a.m. at the Natchez Convention Center.
Among the speakers of note at the two-day conference will be former and current Welty Foundation National Advisory Board members William Ferris and U. S. Senator Thad Cochran.
The Celebration is sponsored by Copiah-Lincoln Community College, the Mississippi Humanities Council, and the Mississippi Department of Archives and History, with support from the Natchez National Historical Park. Most programs are free, but some require tickets. For more information or to purchase tickets, call 601-446-1208 or email NLCC@colin.edu.
Marrs and Tom Nolan (photo above) have been nominated for an Edgar Award by the Mystery Writers of America (MWOA) for the best book in the Critical/ Biographical category for Meanwhile There Are Letters: The Correspondence of Eudora Welty and Ross Macdonald (Arcade Publishing). The awards will be presented April 28 at the Grand Hyatt Hotel in New York City. More information may be found on mysterywriters.org.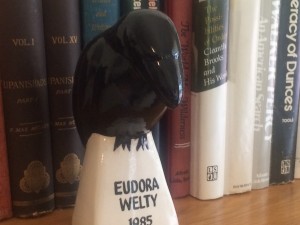 Eudora received the Raven Award in 1985 from MWOA for Mystery Reader of the Year, an award she cherished. It was the only award on display in her home and may be seen on tours of the Welty House and Garden today. Edgar Allan Poe is the namesake of the Edgar Awards as well as the inspiration for the Raven Award.
Other nominees in the critical/biographical category are Martin Edwards, The Golden Age of Murder (HarperCollins Publishers); Frederick Forsythe, The Outsider: My Life in Intrigue 
(Penguin Random House – G.P. Putnam's Sons); Matthew Parker, Goldeneye: Where Bond Was Born: Ian Fleming's Jamaica (Pegasus Books); and Nathan Ward, The Lost Detective: Becoming Dashiell Hammett (Bloomsbury Publishing).