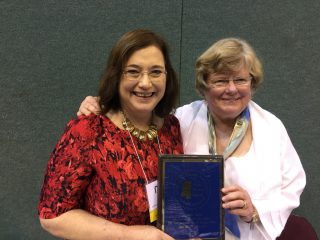 Suzanne Marrs, who retired in 2015 as the Eudora Welty Scholar-in-Residence at Millsaps College, continues to be acknowledged for her contributions to the body of Welty scholarship. In October she received the 2016 Non-fiction Author Award from the Mississippi Library Association (MLA). Marrs is shown here accepting the award at the MLA conference in Vicksburg from Patty Furr, executive director of the Jackson Hinds Library System.
The award was for Meanwhile There Are Letters: The Correspondence of Eudora Welty and Ross MacDonald, which she edited with Tom Nolan. Read more about Nolan and Meanwhile There Are Letters in News and Events on this website.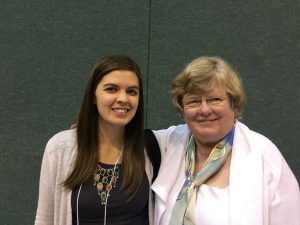 Here Marrs visits at the MLA awards ceremony with Hillary Richardson, librarian at Mississippi State University, who was a Ford Fellow for Marrs while a student at Millsaps. Photographs are courtesy of Susan Shands Jones.
Marrs also received the MLA's 2006 Non-fiction Author Award for her seminal Eudora Welty: A Biography. Eudora Welty herself received the award in 1987 for her memoir, One Writer's Beginnings.
In September, Marrs discussed and signed Meanwhile There Are Letters at the Lake Forest Book Store in Illinois and later greeted fans at a gathering of about 90 people at the home of Madeleine McMullan in Lake Forest.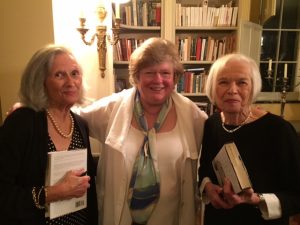 Marrs is greeted here by McMullan, right, and Beth Tyke. Photo is courtesy of Sarah Dabney Gillespie. McMullan taught history at Millsaps College in the 1960s, and her late husband, James, was a member of the Eudora Welty Foundation National Advisory Board as is her daughter, author Margaret McMullan. See story about Margaret McMullan and Katy Simpson Smith in News and Events.
In 2015 Marrs was honored with the Richard Wright Literary Excellence Award at the Natchez Literary and Cinema Celebration for her career's work. Eudora received the first Richard Wright Literary Excellence Award in 1994.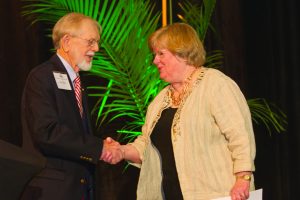 John Guice, Professor Emeritus of History at the University of Southern Mississippi, presented the award to Marrs at the celebration. Photo courtesy of Cain Madden, Natchez Democrat.
This post is from the
archive.