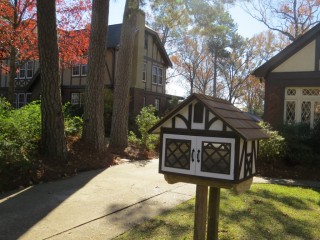 The "Little Free Library" has opened a "branch" at the Eudora Welty Education and Visitors Center next door to the Welty House and Garden. Built on the concept of "take a book, leave a book," the library structure was designed by Arthur Jones and constructed by Jeff Becker in the English Tudor architectural style of both of its Belhaven Historic District neighbors.
Since its opening in early December, the book turnover has been brisk, says Chase Wynn, Welty House education outreach coordinator, who managed the project. "The range of books left in the "library" has been quite broad, and we have been very gratified at the public's interest," Wynn added. "We think this is a concept that is in keeping with Eudora Welty's love of reading."
Click here to read the feature story in the Jackson, Mississippi, Clarion-Ledger about the "library."
This post is from the
archive.