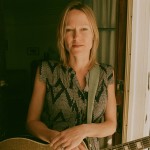 "An Evening of Eudora Welty" featuring singer-songwriter Claire Holley and other guests will be held Sunday, March 13, at the Ruskin Group Theatre's monthly "Library Girl" program in Santa Monica, California, at 7 p.m.
Other guests include author Tom Nolan, co-editor with Suzanne Marrs of Meanwhile There Are Letters: The Correspondence of Eudora Welty and Ross MacDonald; film and television actor Darrell Larson; and Susan Hayden, poet, playwright, novelist, and producer/creator of "Library Girl."
The Welty program is being coordinated by Jackson, Mississippi, native Holley, who performed with Mary Chapin Carpenter, Kate Campbell, and Caroline Herring at the Welty Centennial in 2009.
Holley, who now lives in Los Angeles, also wrote "Pleasant Dreams," inspired by Welty's story "The Whistle," which is available on this website under Resources. It is part of a package of materials used to teach about Welty's stories of the Great Depression. In collaboration with Ballet Mississippi, Holley performed her works at a concert of music and dance in Jackson on February 6. Her latest album is "Time in the Middle." Click here to learn more more about Holley.
"Library Girl," held the second Sunday of each month at the Ruskin, supports the non-profit community theater and school of acting. Tickets for the program may be purchased here.
This post is from the
archive.