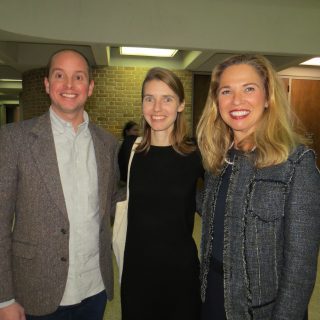 Two writers with Mississippi ties — Katy Simpson Smith and Margaret McMullan — read from their current and recent work at Millsaps on November 15 in a program sponsored by the Millsaps English Department's Visiting Writers Series and the Eudora Welty Foundation.  
Smith, center, and McMullan are seen here with Michael Pickard, assistant professor of English and Creative Writing and coordinator of the Visiting Writers Series.
Smith read from a work in progress and her acclaimed novel Free Men, published this year by Harper. McMullan read "Kaddish for Engel, 64240," an essay based on family research that she conducted in Hungary. 
Smith was born and raised in Jackson—her parents, Elise and Steve Smith both Millsaps professors. She attended Mount Holyoke College and received a PhD in history from the University of North Carolina at Chapel Hill and an MFA from the Bennington Writing Seminars. She is the author of We Have Raised All of You: Motherhood in the South, 1750-1835, and the novels The Story of Land and Sea and Free Men. She lives in New Orleans. She served on the faculty of the 2016 Young Writers Workshop and has been a keynote speaker for the Scholastic Writing Awards ceremony for the Welty Foundation. 
McMullan has written seven award-winning novels. She was the recipient of a 2010 NEA Fellowship in literature and a 2010 Fulbright at the University of Pécs in Pécs, Hungary, and was the National Author Winner of the 2011 Eugene and Marilyn Glick Indiana Authors Award. In 2015, she and Phillip Lopate curated Every Father's Daughter, an anthology of essays about fathers by great women writers such as Alice Munro, Ann Hood, and Jane Smiley.
McMullan also serves on the Welty Foundation National Advisory Board and, like Smith, has been a keynote speaker for the Scholastic Writing Awards ceremony held at the Welty House and Garden.  The McMullan Family Foundation sponsors the summer Young Writers Workshop at Millsaps.
This post is from the
archive.