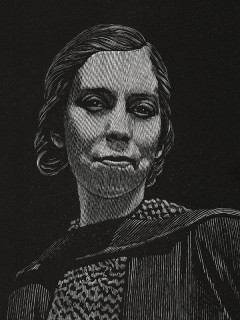 The fifth in a series of engravings of portraits of Eudora Welty by acclaimed artist Barry Moser is now available for purchase. This image, depicting Welty in her college years, is the final in the series of these fine artworks illustrating different stages in the writer's life.
Donated by Moser, with all proceeds supporting the Eudora Welty House and Garden, the prints are from a limited run of 100 and are signed and numbered by the artist. The cost is $250.00 plus tax and shipping. Prints may be purchased at the Eudora Welty Education and Visitors Center, 1109 Pinehurst Street, Jackson. Call 601-353-7762 for more information.
Moser illustrated a limited edition of Welty's The Robber Bridegroom and won the National Book Award for his design and illustration of Lewis Carroll's Alice in Wonderland.
This post is from the
archive.