Annual Plant Sale To Feature Cuttings from Gardenia Planted by Eudora's Mother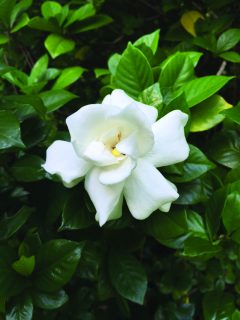 The annual spring plant sale at the Eudora Welty Education and Visitors Center will feature potted cuttings from the large gardenia planted by Chestina Welty, Eudora's mother, shortly after the family moved into the house is 1925. The sale is Saturday, April 8, from 9 a.m. until 1:30 p.m. and is sponsored by the Welty Foundation to benefit the garden fund. A variety of perennials will also be available. Cash or check only. Gardenia photo courtesy of Susan Haltom, historic garden consultant for the Welty House and Garden.
This post is from the
archive.
Welty images and manuscripts © Eudora Welty LLC; courtesy Welty Collection, Mississippi Department of Archives and History. All Rights Reserved. The Eudora Welty Foundation.
Site Design by Groovinby, Ltd.