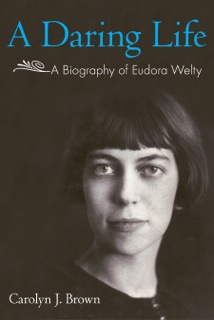 Carolyn J. Brown, author of A Daring Life: A Biography of Eudora Welty, published by University Press of Mississippi, was honored with a "Meet the Author" reception and book signing on October 18 at the Welty House. Special guests were Welty Foundation Friends and teachers. A drawing for 25 night-blooming cereus plants was held as part of the event's theme of "friendship."
Brown talked about how important friendship was to Welty and cited a friend's gift to her of The Norton Book of Friendship edited by Welty and Ronald Sharp. Brown noted that friendship is also a major theme of A Daring Life. She remarked that "Welty's stories, essays, and letters speak to us like an old friend" — a major reason for her enduring popularity. Watch the video of Brown's reception, recorded by the University Press of Mississippi.
Brown's new biography of Welty sold out of its first printing two weeks after its launch, a terrific show of interest by the education market as well as Welty fans. Brown — a writer, editor, and independent scholar — wrote the book with the young adult audience in mind. The book is 144 pages long and contains 90 photographs and illustrations, many never before published.
Brown presented at the Southern Festival of Books in Nashville on October 13 and will make several appearances in North Carolina and South Carolina in November. She has taught at the University of North Carolina-Greensboro, Elon University, and Millsaps College. Her work has been published in College Language Journal and Notes on Mississippi Writers. More events and early reviews of A Daring Life may be found at www.carolynjbrown.net.
This post is from the
archive.