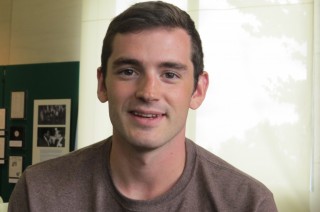 Jacob Agner, Ph. D. candidate at the University of Mississippi, delved into the Welty correspondence at the Mississippi Department of Archives and History this summer to discover more about Eudora's interest in the movies. His work was enabled by a graduate research fellowship awarded by the Welty Foundation and co-sponsored with MDAH.
Agner is seen here with Elizabeth Crews, left, and Ebony O. Lumumba, who were recipients of the Welty Fellowship in 2011 and 2013, respectively. They both attended his recent presentation. Dr. Crews is assistant professor of English and director of the Writing Center at Shorter University in Rome, Georgia, and Dr. Lumumba is assistant professor of English at Tougaloo College in Jackson.
Agner presented some of his findings in a presentation at the Winter Building recently, noting that he is particularly interested in the "film noir" genre and how it possibly informed some of Welty's approach to certain of her "darker" stories, especially those in A Curtain of Green. His plan is for this to be the central theme of his dissertation.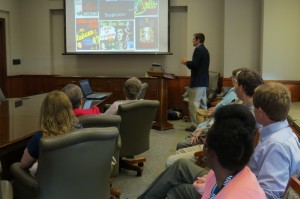 Agner mentioned Welty's description of herself: "I am a writer with a visual mind." He also noted that Welty's story cycle approach, as seen in The Golden Apples, is similar to the process of film production in regard to form and content, with related stories and shots being edited together to create a whole.
He commented on Welty's observation about the kinship of film and short stories, remarking on an interview with William Ferris in Conversations with Eudora Welty, edited by Peggy Whitman Prenshaw, in which she commented on the use of flashbacks an dream sequences. Dr. Prenshaw and Agner are seen below conversing after his presentation.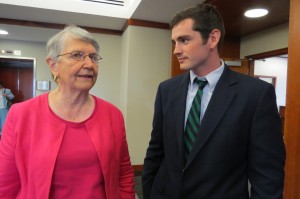 He shared that some 60 films were mentioned in Welty's letters to John Robinson, Frank Lyell, and Ross Macdonald (Kenneth Millar), which he reviewed during his research. Agner found that Welty liked movies—as she did books—that were detective stories and mysteries, such as those of Alfred Hitchcock and Otto Preminger. She also enjoyed comedies, especially those featuring the Marx Brothers and Danny Kaye. He cited a letter from Welty to Kaye asking if he might consider the part of Uncle Daniel, if a movie of The Ponder Heart should be made. Her letters also described the experience of going to a drive-in movie, seeing historical and foreign films at Millsaps College, and the consideration of a film about The Robber Bridegroom.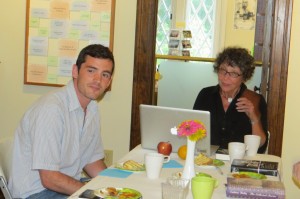 Agner, who is from Roanoke, Virginia, completed his B. A. at James Madison University and his M. A. at Bucknell University, where he audited a Southern literature class taught by Professor of English Harriet Pollack. Agner became enthusiastic about the study of Welty, story cycles, and film montage then, and his master's thesis explored Welty's The Golden Apples, William Faulkner's Go Down, Moses,  and Sherwood Anderson's Winesburg, Ohio. Dr. Pollack and Agner are shown here as they participated in the July Brown Bag discussion of Welty's "Keela, the Outcast Indian Maiden" at the Welty Education and Visitors Center.
This post is from the
archive.