On Monday, July 8, you are cordially invited to the unveiling of the second marker on the Mississippi Writers Trail. It honors Margaret Walker (1915-1998), the noted author of Jubilee, For My People, and other lauded works. 
The marker will be dedicated at 11:30 a.m. at Ayer Hall, the home of the Margaret Walker Center, on the campus of Jackson State University, where she taught for 30 years. The unveiling will be followed by the annual Jubilee Picnic. Events are free and open to the public.
The first marker on the Writers Trail, unveiled last year, honored Eudora Welty, who was a contemporary of Margaret Walker. They were admirers of each other's work.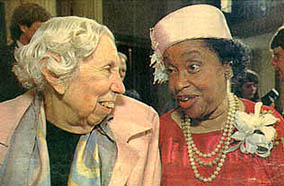 This photograph was taken at the Governor's Awards for Excellence in 1992 when Walker received an award from Gov. Kirk Fordice and Welty attended. Welty received a Governor's Arts Award in 1990.

A fascinating paper by scholar and writer Carolyn J. Brown entitled "Sister Act: Margaret Walker and Eudora Welty" was delivered in 2o15 at the Oxford Conference on the Book. "Sister Act" may be read at this link. It details the parallels in the lives of these two Jackson, Mississippi, literary icons. Brown has also written notable books on both Walker and Welty, published by University Press of Mississippi—A Daring Life: A Biography of Eudora Welty and Song of My Life: A Biography of Margaret Walker. 
This post is from the
archive.