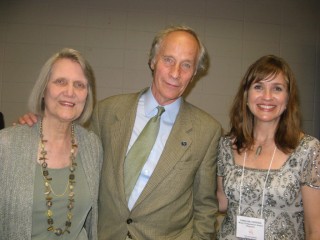 Mississippi creative luminaries Patti Carr Black, Richard Ford, and Caroline Herring were honored by the Mississippi Institute of Arts and Letters (MIAL) in an evening that recalled Eudora Welty from start to finish. Black — noted author, exhibitor, scholar, editor, and promoter of the arts — received the Noel Polk Lifetime Achievement Award. Pulitzer Prize-winning novelist Ford received the Fiction Award for Canada, and acclaimed singer-songwriter Herring received the Contemporary Music Award for her album Camilla. All mentioned their Welty inspiration during their acceptance remarks, and Herring sang "Travelin' Shoes," a composition based on Welty's story "A Worn Path."
Held at Mississippi University for Women, the first institution of higher education that Welty attended, the banquet was moderated and awards presented by University President Dr. James Borsig.  Dr. Peggy Prenshaw, Welty scholar and member of the MIAL board of governors, delivered a heartfelt tribute to the late Noel Polk, one of the founders of MIAL and himself a Welty and Faulkner scholar, as she noted the naming of the Lifetime Achievement Award for him.
Of a special note, Herring's husband, Dr. Joseph Crespino, historian, received the Nonfiction Award for Strom Thurmond's America.
This post is from the
archive.