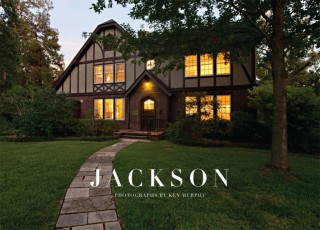 Photographer Ken Murphy was honored at a reception on August 11, at the Eudora Welty Education and Visitors Center. He signed copies of his new book Jackson, featuring the Eudora Welty House on the front and back of the dust jacket. John Evans—owner of Lemuria Books, which published the book—was also recognized. Evans also wrote the book's Foreword.
Both Murphy and Evans spoke of their experiences working on the book, and Evans also commented on his association with Welty over the years. The book contains a dedication reading, "To Eudora Welty, dear friend of our bookstore."
Jackson is an artful vision of the beauty of the capital city, and several of the photographs depict not only the Welty House but other landmarks associated with Welty's life. Included are photographs of her bedroom and living room; the sculpture of Welty at the Welty Commons near her birthplace on Congress Street; Davis Elementary School, built on the site of the school she attended as a child; the former Central High School building, formerly Jackson High and now the Mississippi Department of Education, where Welty graduated; the Lamar Life Building, where her father worked as president of Lamar Life Insurance Company; Millsaps College, where she was writer-in-residence in the early 1960s; and Welty's gravesite at Greenwood Cemetery. Other shots commemorating Welty include the Mississippi Writing Room at the Eudora Welty Library, and the sculptures of Welty, William Faulkner, and Richard Wright at the Pinnacle at One Jackson Place.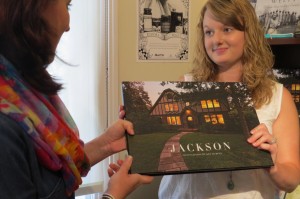 The book is available in the Gift Shop at the Welty Education and Visitors Center. Here Megan Bankston, right, and Lee Anne Bryan of the Welty House and Garden staff unload a shipment of books for display and sale. The Welty House-themed dust jacket is one of several featuring other iconic Jackson buildings.
This post is from the
archive.