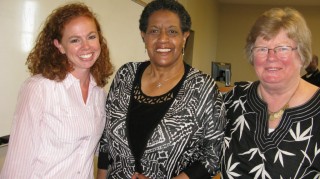 Renowned human rights advocate Myrlie Evers addressed both sessions of "One Place, One Time: Jackson, Mississippi, 1963," the National Endowment for the Humanities Landmarks of American History and Culture Workshops co-sponsored by the Eudora Welty Foundation and Millsaps College. Held July 14-19 and July 21-26 and attended by 80 teachers from around the nation, the workshops coincided with the 50th anniversary of the murder of Myrlie Evers's husband, Mississippi NAACP field secretary Medgar Evers.
Other lecturers included Dr. Michael Williams, author of Medgar Evers: Mississippi Martyr; civil rights movement veteran and former Tougaloo College chaplain Ed King; and Dr. Leslie McLemore, founder of the Fannie Lou Hamer Institute on Citizenship and Democracy, and Dr. Robert Luckett, director of the Margaret Walker Center, both of Jackson State University. Jerry Mitchell, award-winning journalist who helped bring about justice in the Evers case because of his relentless reporting, was also on the faculty.
Others included project co-directors Dr. Stephanie Rolph, Visiting Assistant Professor of History, and Dr. Suzanne Marrs, Eudora Welty Foundation Scholar-in-Residence (shown here with Mrs. Evers), and Dr. Peggy Prenshaw, Welty scholar and Humanities Scholar-in-Residence emerita, all of Millsaps College.
Among the materials that participants studied were the papers of Medgar Evers, Eudora Welty, and the Sovereignty Commission files at the Mississippi Department of Archives and History and the papers of Margaret Walker Alexander at Jackson State University. They visited local historic sites connected with the Jackson civil rights movement as well as museums  featuring Evers exhibits.
For background information about the NEH workshop, scroll to the last entry of the Resources page of this website.
This post is from the
archive.