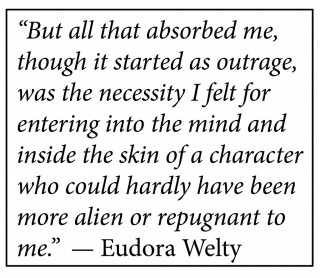 Opening May 15 at the Eudora Welty House Education and Visitors Center, "Life Into Fiction: The Murder of Medgar Evers and 'Where Is the Voice Coming From?'" examines how the assassination of Medgar Evers compelled Eudora Welty to write — on the day he was murdered — one of her most haunting stories.
Written from the point of view of the assassin, "Where Is the Voice Coming From?" reveals in chilling detail the mind of the murderer. This compelling exhibit includes pages from Welty's original manuscript draft, the July 1963 issue of The New Yorker in which the story was published, photographs of the crime scene, and other related artifacts.
A companion display focuses on the relationship between Millsaps and Tougaloo colleges preceding and during the civil rights movement and Welty's association with both institutions, one historically white and the other historically black. The exhibit runs through December 15. For more information or to reserve a tour, call 601-353-7762.
Be sure also to visit "This Is Home: Medgar Evers, Mississippi, and the Movement," an exhibit at the William F. Winter Archives and History Building in Jackson, now open through October 31 and then touring the state. These and other exhibitions and events recognize the 50th anniversary of the assassination of Medgar Wiley Evers, Mississippi NAACP field secretary and civil rights visionary. For more information, visit eversinstitute.org.
---
This post is from the
archive.